July 11th: Thunderstorms - Hampshire
I had this week off work, so thought I'd have a chance to catch any storms in the area at short notice. Unfortunately the forecast showers for this day ended up being at their best in the late morning, catching me off-guard! Thunder was reported near Fareham, Hants around 1130, but by the time I'd got out to a decent viewpoint with the camera, most activity had cleared to the east. I did manage to catch this downpour over the city though; you can just make out the Spinnaker Tower re-appearing from under the rain to the right: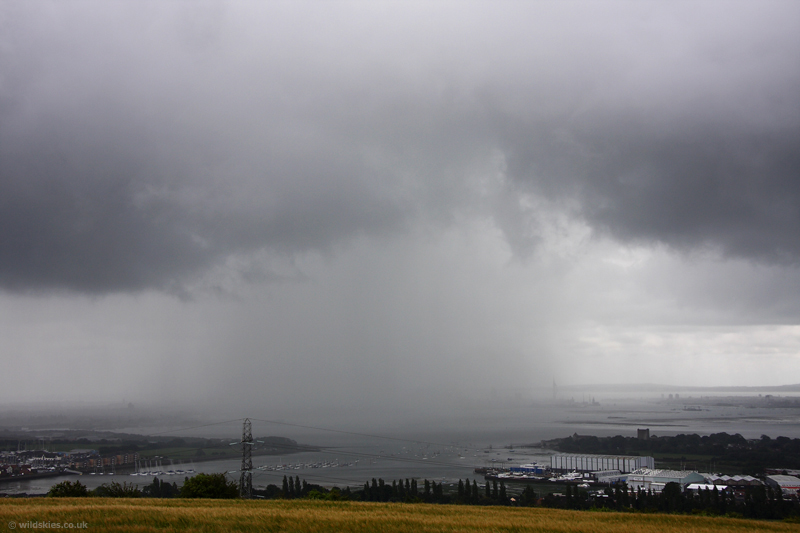 It did produce a few rumbles of thunder as it moved away: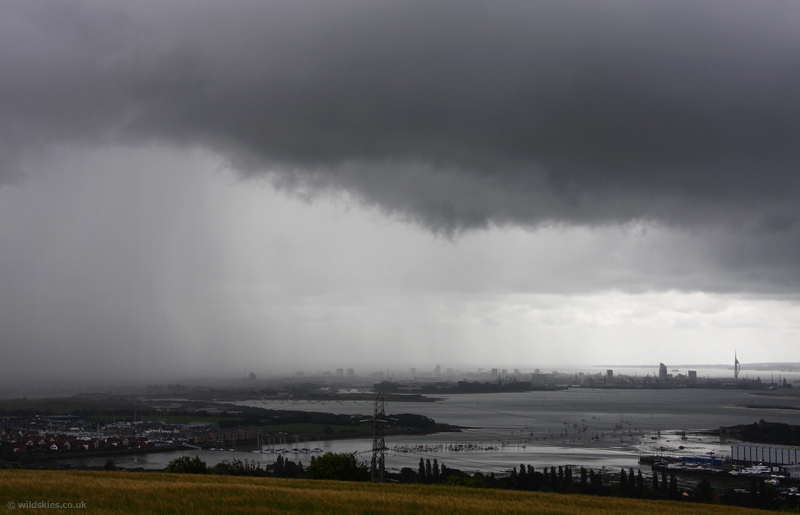 In the afternoon, I headed to Farnborough in north Hampshire to watch the flying display at the airshow. As I arrived iin the early afternoon some storms fired up to the north of the town: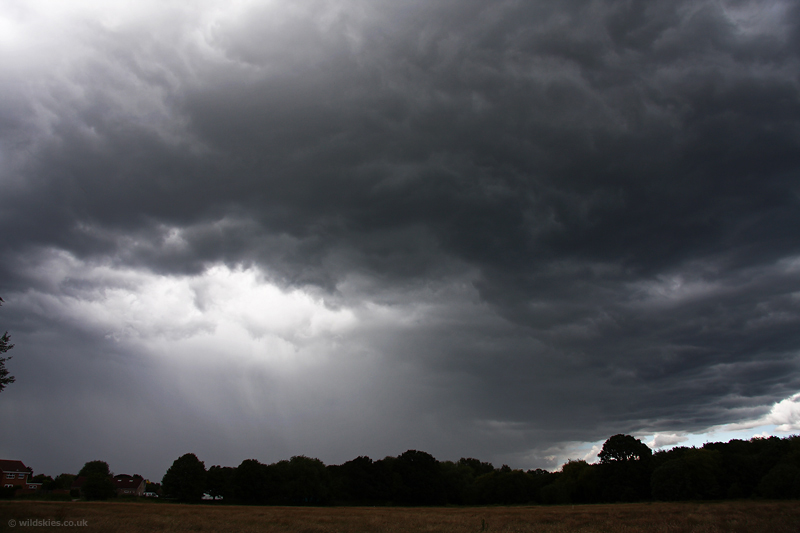 A gust front pushed ahead of the storm, passing over where I was stood. It looked pitch black against the brightness behind, but only gave a few large spots of rain: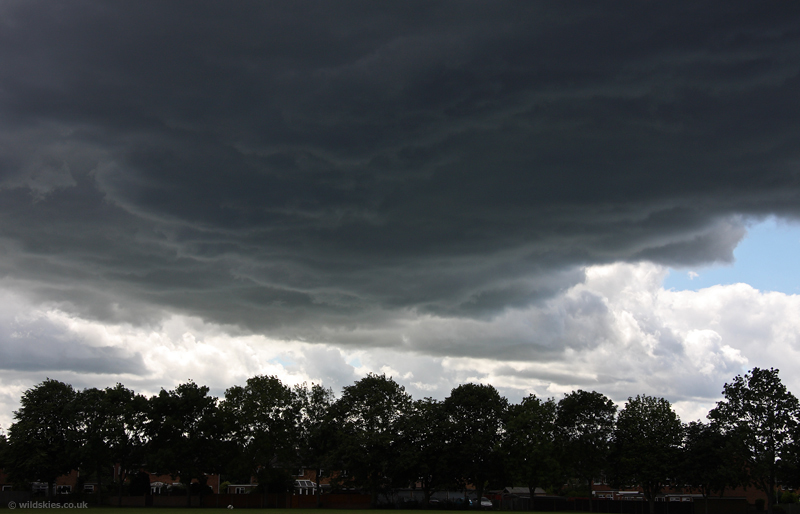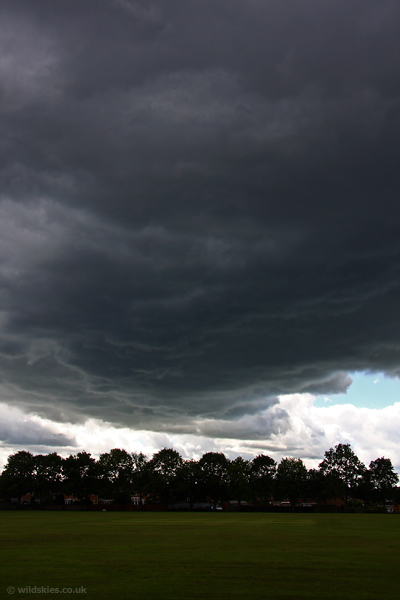 As the cloud moved to the SE, the sunshine made the sky appear even more menacing, and a new storm was starting to develop as the system became a multicell (spawning new storms on the outflow of the old one).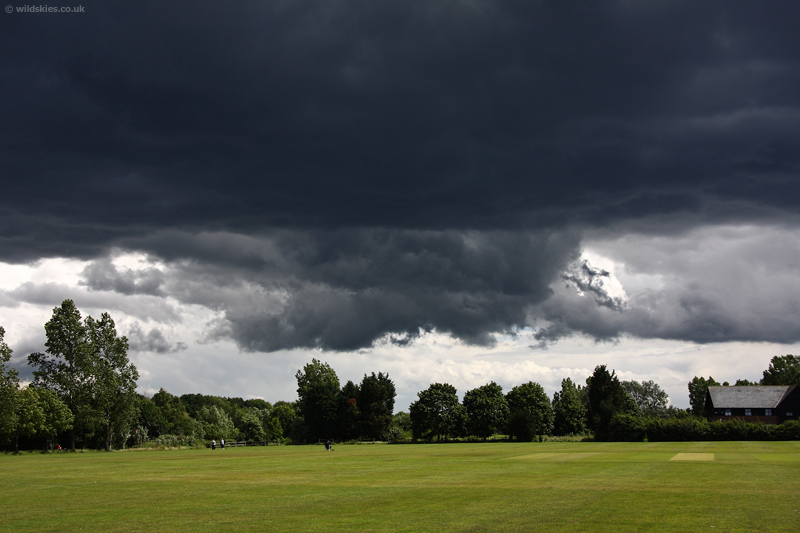 Convection really got going as it moved away: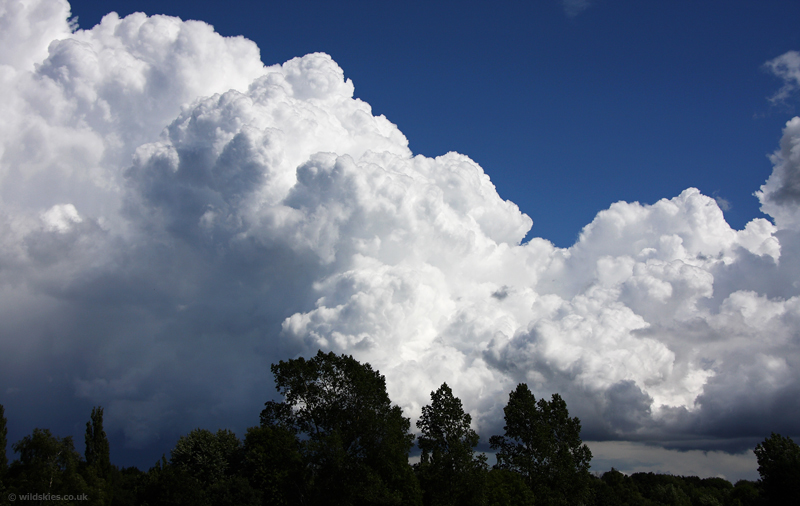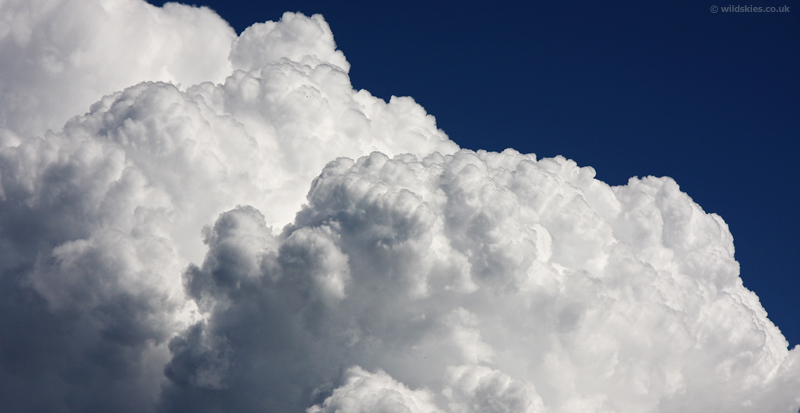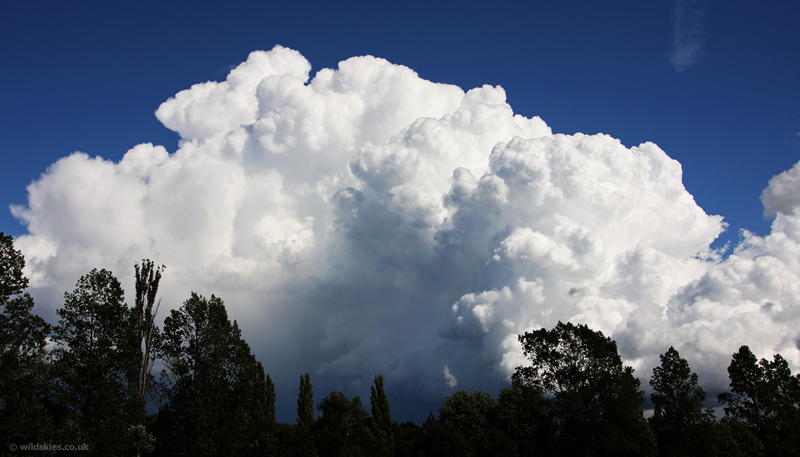 Yet another shower developing over the airport: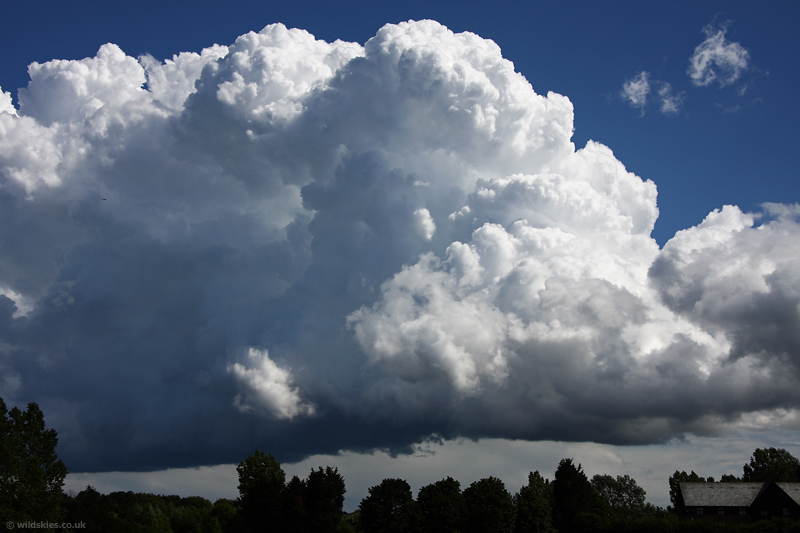 After the airshow I headed back towards home, but noticed a really strong-looking thunderstorm about 3 miles to the NE. I decided to try and get closer for some good shots, but there was nowhere to pull over and it was nearly rush-hour (1700), so I ended up in an industrial estate. The storm was producing a fair bit of lightning and some 1cm hailstones. The gust front was particularly turbulent: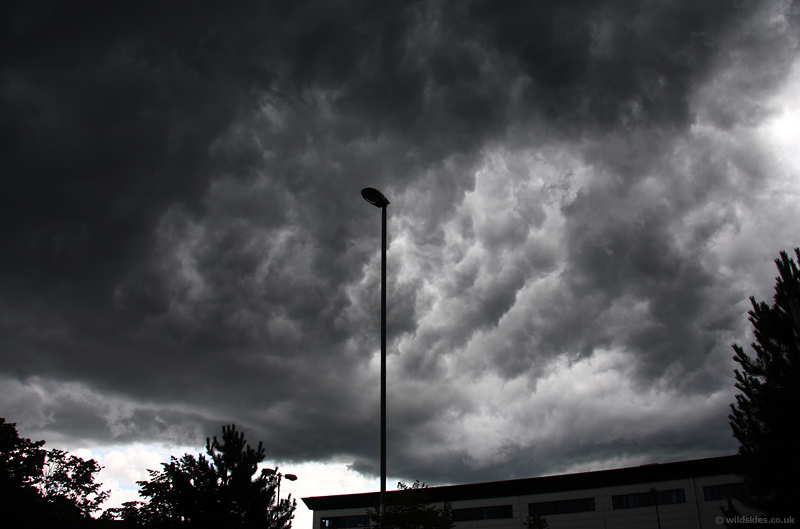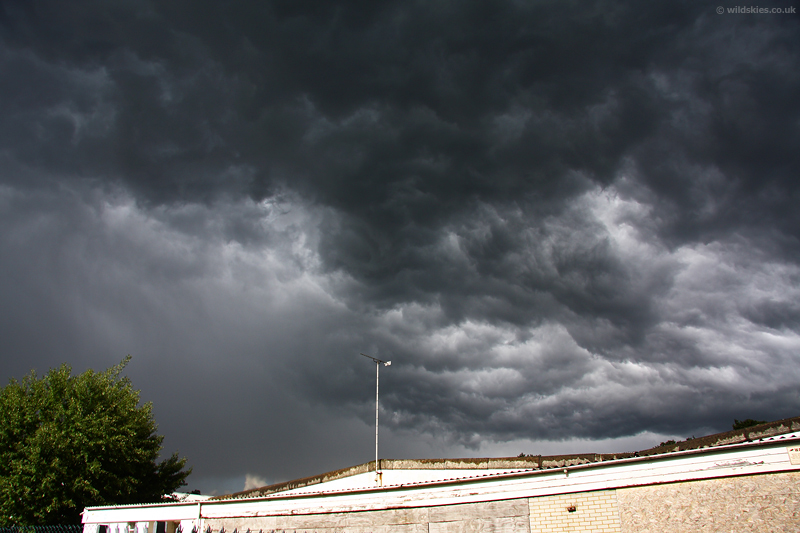 Typically, soon after I returned home a thunderstorm passed directly overhead! It gave the most intense downpur of rain and hail I've seen this year so far, but frustratingly I couldn't get any shots due to the lack of any view. I headed out again to see the area of storms moving off to the east: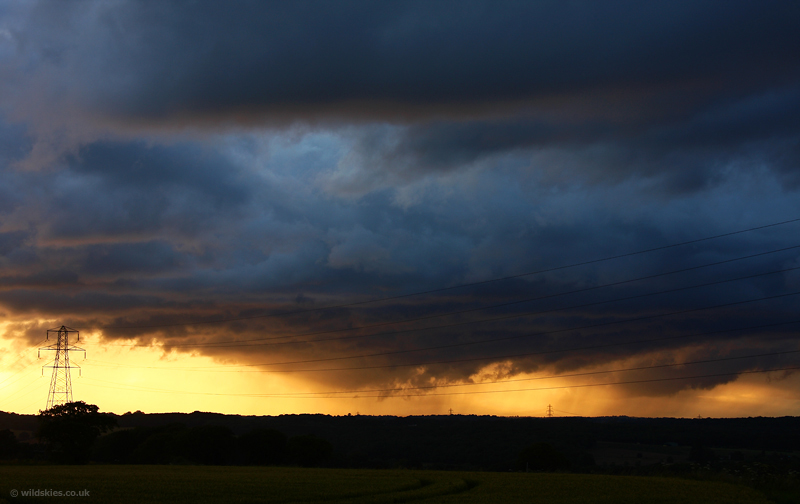 I even caught a brief spin-up directly overhead! Things were decaying as the light faded, so no chance of a funnel: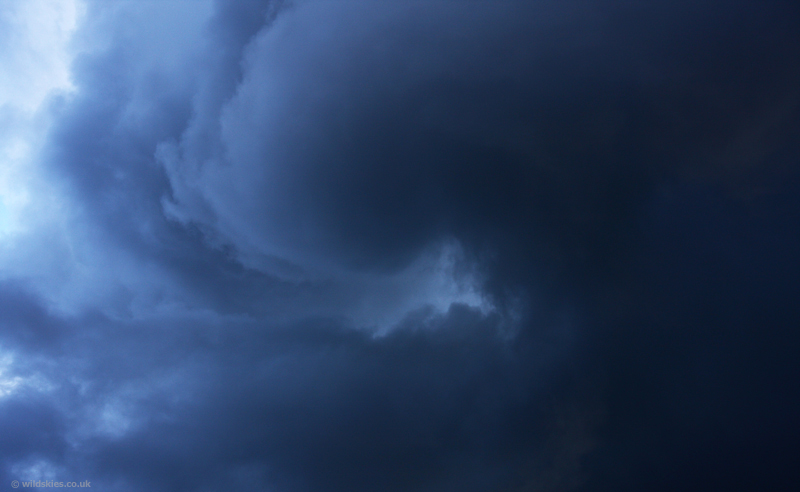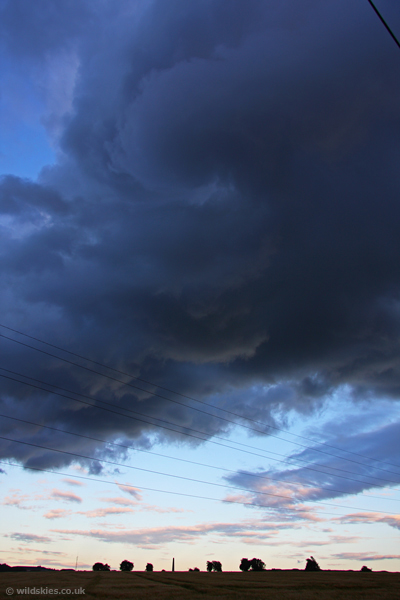 There was no escaping the powerlines unfortunately, but the sunset always brings out the best colours: